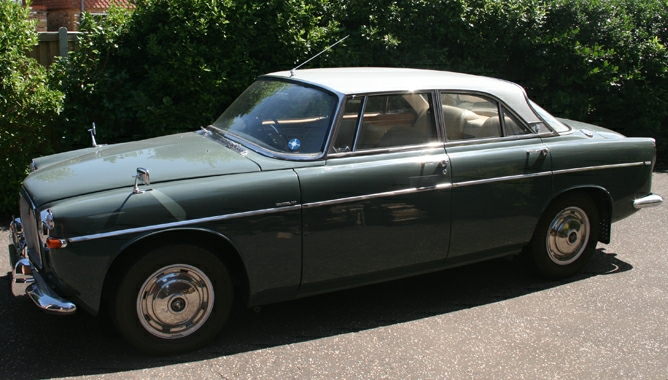 Rover P5 Mk III Coupé (pictured above)
The Rover P5 was produced between September 1958 and March 1974. It is curious that these cars have not attracted a larger following amongst classic car enthusiasts as they are superbly made, very comfortable, perform and handle well.
Inside featured quality leather and extensive use of wood veneer. The Coupé models had four very substantial leather armchairs, and sufficient head and leg room for all but the tallest occupant.
The P5 utilised a 3 litre six cylinder engine which was exceptionally smooth and quiet, and whilst it is not exactly sporty, it is not slow by any means and has no difficulty keeping up with modern traffic.
The P5 was available as either a Saloon or Coupé, with either automatic or manual gearbox. In terms of quality and refinement it was easily a match for the Daimlers and Jaguars of its day.
The later P5B had a 3½ litre V8 engine, developed by Buick and a Borg Warner Type-35 automatic transmission. These provided a decidedly sportier drive. It comes as no surprise that these cars, especially the later P5B models, were very popular with the British government for ministerial use. Harold Wilson, Edward Heath and Margaret Thatcher used them as official transport.
Even the fictional Inspector George Gently (from the BBC detective series) drove one!